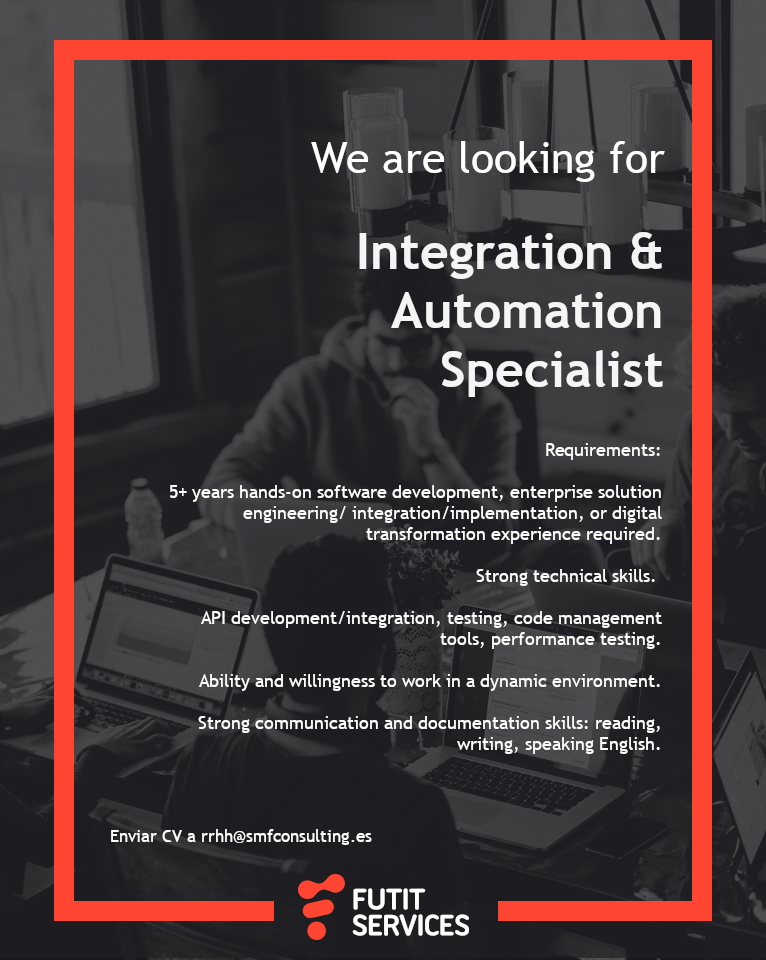 04 Jan

Integration & Automation Specialist

Main responsibilities:
Create technical specifications and develop internal integration and automation solutions, considering solution reusability, security, efficiency, quality, ease of implementation, and practitioner/user experience.
Assist customers with enhancing or expanding software capabilities through integration and automation.
Participate in the configuration, integration, troubleshooting and enhancement of the product and partner systems, toolchains and third-party solutions.
Participate in internal and customer-focused engagements such as demos, workshops, blogs, instruction, product enhancement proposals, task timelines, and other activities to develop and enhance customers' success, efficiency and adoption of the product.
Create integration, automation and product documentation, including processes, best practices, instructional materials, and technical customer-directed content.
Configure, test, document, and educate customers regarding integration capability and use to enable customer success. Follow up on deployed integration automation solutions to evaluate effectiveness, and identify opportunities for improvement.
Integrate disparate customer data sources and design/implement automated workflows to increase value, e.g. time savings, resource efficiency, data accuracy, completeness.
Requirements:
5+ years hands-on software development, enterprise solution engineering/ integration/implementation, or digital transformation experience required.
SaaS experience preferred
Strong technical skills required, including proficiency in multiple technical areas such as scripting (PowerShell, Python, Bash scripting), databases, data integration, data analytics.
API development/integration, testing, code management tools, performance testing.
Familiarity/exposure to the following preferred: DevOps tooling, JSON, Linux, Windows, AWS Cloud Services (EC2, S3, RDS).
Good interpersonal and presentation skills; professional and adaptable approach to interaction with – and support of – customers and colleagues.
Ability to work with various internal and external cross-functional teams
Ability to multi-task in a high-volume work environment and meet deadlines
Thrive in a fast-paced environment with ability to re-prioritize and multi-task
Resourceful, creative and analytical for troubleshooting problems, identifying solutions
Self-motivated and directed: fast learner willing and able to learn new technologies
Strong communication and documentation skills: reading, writing, speaking English
Ability and willingness to work in a dynamic environment in which requirements may not always be fully defined and priorities are subject to change
Strong attention to detail regarding tasks, documentation and communications
Comfortable in supporting and working with global customers across time zones.
Join us!
Fill in the following form if you are interested in the position.