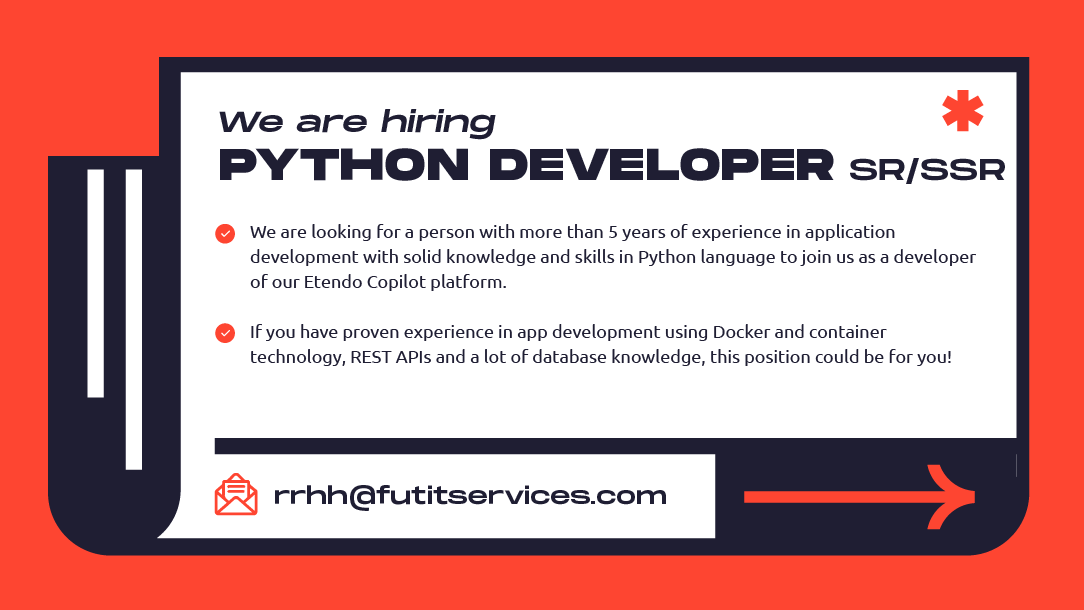 19 Jul

Python Developer Sr / Ssr

We are looking for a person with more than 5 years of experience in application development with solid knowledge and skills in Python language to join us as a developer of our Etendo Copilot platform. If you have proven experience in app development using Docker and container technology, REST APIs and a lot of database knowledge, this position could be for you!

Your day to day:
You will be responsible for implementing new features, maintaining and continuously improving our Copilot platform.
You will work hand in hand with the development team, being able to identify problems and create efficient solutions, so it is important that you also enjoy teamwork and have the ability to communicate your progress and results to others.
Your profile will stand out with us, if:
You have knowledge in Machine Learning and associated libraries (e.g. scikit-learn, TensorFlow, PyTorch), in LangChain and/or Huggingface.
You also have Prompt Engineering skills and are already familiar working with agile software development methodologies and skills in cloud-based software development (AWS, Google Cloud, Azure).
At Futit you will find:
A friendly and cooperative work environment.
The possibility of working and developing with cutting-edge technologies.
Opportunities for growth and professional development.
Competitive salary and the possibility of working remotely.
If you identify yourself with the proposal, we hope to meet you soon!
Join us!
Fill in the following form if you are interested in the position.